As my training and preparation continues for the Prostate Cancer UK Football to Amsterdam 2016 charity bike event, the month of April has been great in lots of ways!
Specifically the 'War of Miles' challenge with the Premier League midfield players from AFC Bournemouth.
The 'War of Miles' was a great idea that the Media & Comms team at AFC Bournemouth and I devised. Where I compete to make my training miles on my bike higher in the month of April, then the midfield players of the team can run in their five Premier League matches they played in April!
So with AFC Bournemouth playing the following five fixtures during April
Saturday 2nd April v Manchester City (Home)
Saturday 9th April v Aston Villa (Away)
Sunday 17th April v Liverpool (Home)
Saturday 23rd April v Chelsea (Home)
Saturday 30th April v Everton (Away)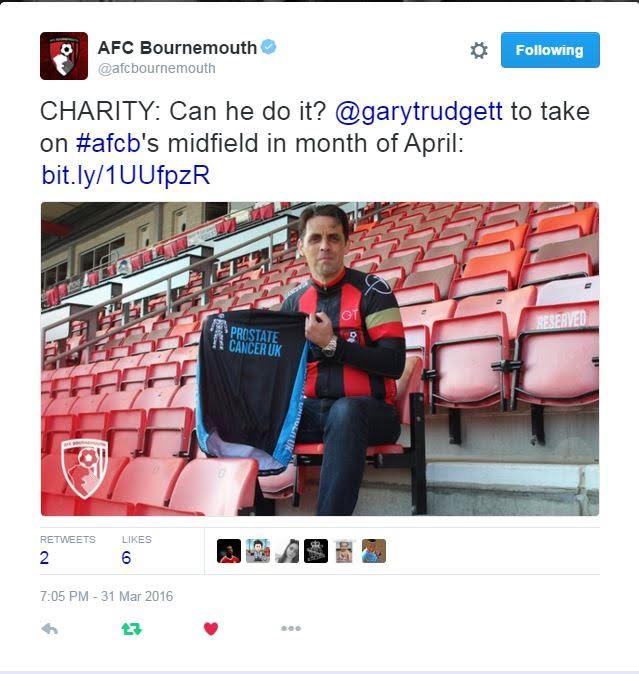 The challenge was well and truly on!!
Media coverage and awareness were excellent. With articles and stories published throughout the month of April on the official AFC Bournemouth website. These were then shared on the club's social media feeds (Twitter and Facebook), as well as an article in the match-day programme for the Manchester City home game.
Additionally, the local press (Bournemouth Daily Echo) also wrote a news story which appeared in print, online and on social media.
To explain more about the 'War of Miles' challenge here is an excerpt from the initial news story from the AFC Bournemouth website…
AFC Bournemouth supporter Gary Trudgett has challenged the Cherries midfield to a war of miles over April.
The running stats of Eddie Howe's midfield have been well documented of late, with Andrew Surman, Dan Gosling, Matt Ritchie and Eunan O'Kane having all topped charts for the most distance covered in the Barclays Premier League.
Now cycling enthusiast Trudgett, as part of his training to represent AFC Bournemouth in Prostate Cancer UK's 145-mile London to Amsterdam bike ride, will go head-to-head with the midfield four.
The players collectively covered 179.6 km across four league games in March, whilst Gary clocked 207.9 km throughout a tough month of training. With five matches scheduled in for April, it's guaranteed to be a close call!
"It's a daunting challenge but one I am really looking forward to," commented Trudgett.
"Especially as the lads in the midfield are topping the league tables in terms of running stats and distance covered at the moment. Fitness is such a key factor in the AFC Bournemouth team.
"That said, hopefully, there will be a few games that the boys are winning comfortably and Eddie [Howe] can give them a rest for the final 10 or 15 minutes. Maybe that'll give me a chance to win!"
Trudgett will take on Prostate Cancer UK's ride from London to Amsterdam on June 3rd, 2016 alongside England legend Terry Butcher, former Cherry Luther Blissett and over 500 other supporters from across the country.
The aim of the annual cycle is to raise money for Prostate Cancer UK and promote the charities movement, Men United.
Prostate cancer is the most common cancer in men – stats show that 1 in 8 men will get prostate cancer in their lifetime.
You can read the full article on the AFC Bournemouth official website and how they support my Prostate Cancer UK Challenge.
---

So how many training miles did I achieve during April??
273 miles ridden
Over 18hrs in the saddle
13 training rides completed in April
So how close were the comparable miles in the 'War of Miles' challenge?
Going into the final match of April, the AFC Bournemouth midfield had acuminated 218.4 miles. Giving me a slender lead of 29.5 miles, as I had ridden 247.9 miles.
The final results are still currently being calculated by the player analysts at AFC Bournemouth, but I'm quietly confident I may have just done enough training miles to closely win this challenge. Although Scottish International and fans favourite player, Matt Ritchie was confident in a pre-match interview before the Everton game!
Charity: Ritchie hoping to edge Cherries fan in Prostate Cancer UK war of miles
The AFC Bournemouth midfield and Cherries supporter Gary Trudgett are neck and neck as they head into the home straight on their war of miles.Trudgett challenged the midfield to a distance duel at the beginning of April, as the cycling enthusiast prepares to undertake Prostate Cancer UK's London to Amsterdam charity ride.
Eddie Howe's midfield have clocked up an impressive 218.4 miles over the past four Barclays Premier League games against Manchester City, Aston Villa, Liverpool and Chelsea.
However Trudgett, throughout a rigorous training programme, has covered 247.9 miles on his bike – giving him a lead of 29.5 miles heading into the final game of the competition.
Despite the current standings, Cherries midfielder and fellow cycling enthusiast, Matt Ritchie is confident that the players can turn their deficit around in the final game against Everton.
"We are quietly confident we can catch Gary," smiled Ritchie.
"Judging by the rules at the beginning, we could play five in midfield at Everton and that would give us an extra pair of legs, so maybe we'll have to speak with the gaffer!
"In all seriousness, the distance Gary has covered throughout his training has been phenomenal.
"It will set him up really nicely for his Prostate Cancer UK ride next month, but hopefully, we will just be able to nick the lead in a photo-finish!"
You can read the full article on the AFC Bournemouth official website and how they support my Prostate Cancer UK Challenge.
---
So with the departure date of Friday 3rd June 2016 looming nearer and nearer, my training and preparations continue throughout the month of May.
The fund-raising and donations have also gathered pace. Brilliantly my Just Giving page currently stands at 160% of my fundraising target, at an amazing £1,603!
You can follow and support me via any of the following…
Finally, I must thank the team at Web-Feet for their ongoing and brilliant support and encouragement. Thanks, guys your encouragement has been amazing
Some headline stats…
· Fundraising target has reached 160% at £1,603
· I'm currently 5th in the London to Amsterdam fundraisers league table
· Training miles in April totalled 273 miles. A grand total of 814 miles completed in 2016 so far
· Less than 30 days until I depart on the 3rd June!