SEO was the topic of conversation this morning in the office so I decided to throw together some facts and figures to get your brain working.
We all know SEO is a total pain but is an integral part of any website if you want it to rank more effectively. Below I list some SEO facts you need to know.
Domain-Level Link Features
In search engine ranking factors your Domain-Level Link Features has been ranked the highest and most important part of a site to focus on when attempting to improve search closely followed by Page-Level Link Features. This is based on link/citation metrics such as quantity of links, trust, domain-level page rank etc.
Google own the Majority of Search in the UK
As of March 2016 Google currently owns the majority share at 86.65% with the closest competition, Bing at a mere 8.88%. Moral of the story is to keep Google happy and focus on your ranking there, but do not ignore the other search engines as you will get business from them.
The image below showcases a reference chart from July 2014 where Moz tested a theory about organic search. The chart shows that if you had 100 people search a month for example "wood table" being in the first position you would get 31.24% of the visits this was done on desktop only searches. On average, 71.33% of searches result in a page one organic click. Page two and three get only 5.59% of the clicks. On the first page alone, the first 5 results account for 67.60% of all the clicks and the results from 6 to 10 account for only 3.73%.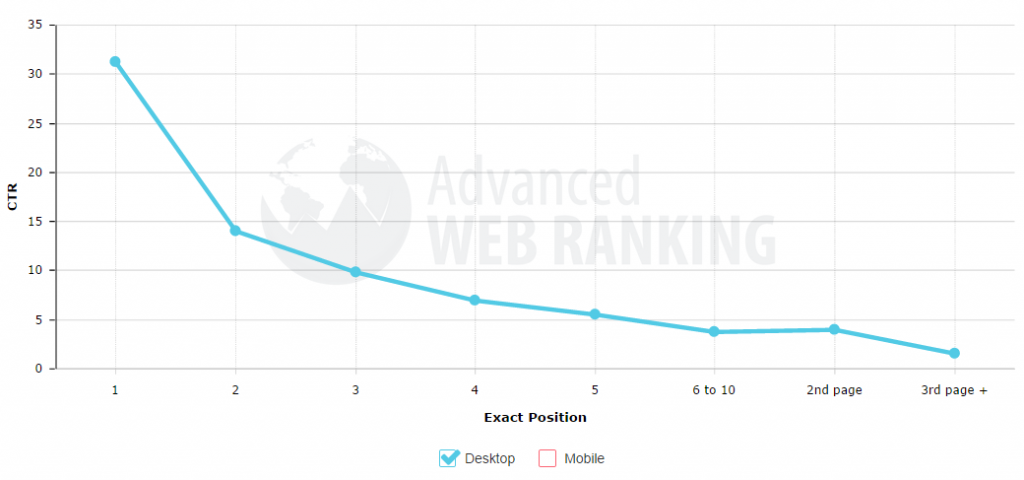 As Moz mentions, we are missing the other 23.08% of clicks and they listed a few scenario as to why they don't appear:
Some people may find the ads displayed above the organic results more relevant.
Some people may not find what they are looking for in the first 10 results so they click on results from the second or third page instead.
Others may not find what they are looking for at all so they refine the search adding more words to the query to be more explicit.
With Google providing more and more instant answers people may very well find the answer to what they are looking for in the displayed search results so there is no need for them to click on any of the results.
Mobile Traffic is increasing daily across the board, below you can see the results from page searches on mobile compared to desktop.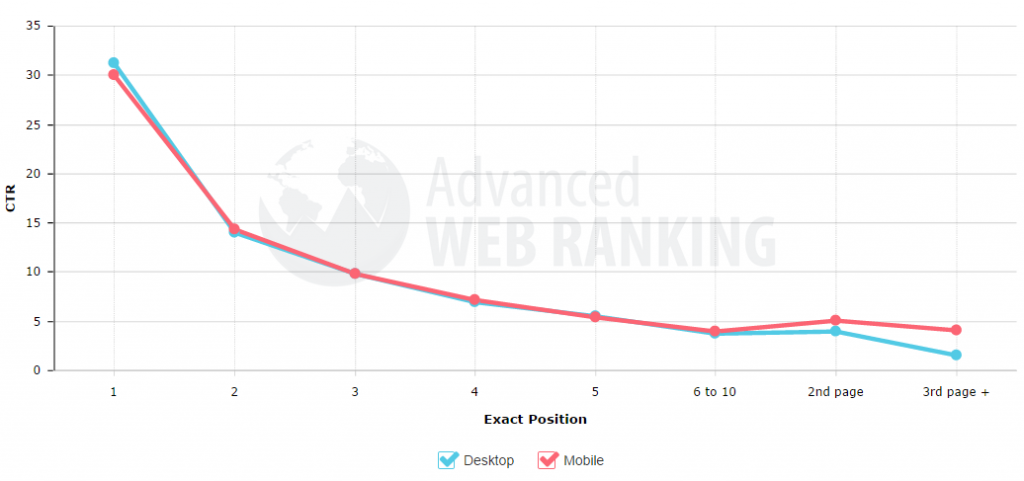 We can see the CTR is slightly lower compared to desktop, many speculate that this is due to the simplicity of scrolling on a mobile compared to desktop, results increase greatly on 2nd and 3rd pages which means great news for companies who cannot get first place.
So there are some SEO Facts You Need To Know. Can you add your comments or your own facts people need to know? Use the comments section below…
All stats and facts backed up by the links below:
https://moz.com/search-ranking-factors
http://theeword.co.uk/news/may-uk-search-market-share-small-gain-for-google/
http://www.statista.com/statistics/280269/market-share-held-by-search-engines-in-the-united-kingdom/
https://moz.com/blog/google-organic-click-through-rates-in-2014