For any marketer who hasn't gotten the mobile-first memo, the recently released 2016 Internet Trend Report served as a definite wake up call. It covered the shift to a video-heavy and data-rich marketing world but really emphasised the fact that we are living in a mobile-first world.
While industry experts and companies like Facebook and Google begin conversations about design and user experience with a focus on the small screen, this hasn't quite translated over to the wider marketing industry.
The $22 billion mobile advertising gap.
For marketers, the most important thing we learned from the 2016 Internet Trend Report was the fact that online advertising is growing – with mobile growing faster than desktop, even though it commands a smaller share of the pie.
The report also revealed that people spend 25% of their time looking at mobile devices, but marketers only spend 12% of their advertising budget on mobiles – that 13% gap represents a $22 billion missed opportunity in the US ad industry alone. By increasing the number of mobile ads, marketers have the potential to reach many more customers.
With mobile audiences growing stronger than ever, it has never been a better time to develop a branded mobile app if you don't offer one already. Search and advertising budgets should also be thought about carefully – Google recently reported that it now delivers more search results on mobiles than desktops, so any search advertising strategy should reflect this.
Video ads are also becoming increasingly popular on mobiles – so if you currently rely on banner ads it's definitely worth looking into new, more engaging formats.
The bottom line is the audience has clearly moved to mobile devices and marketers' advertising budgets should reflect that shift. Of course, that doesn't mean your whole advertising budget has to be dedicated to mobile – but similar to taking a mobile-first approach to creative design, marketers should be taking a mobile-first approach to allocating advertising budgets.
---
Snapchat as symbol of changing habits.
The shift to mobile is particularly evident in Snapchat, which offers an exclusively mobile experience for users. With 150 million daily users (now more than Twitter), it boasts 10 billion daily video views – helping to cement Snapchat as a major player in an increasingly crowded social media world.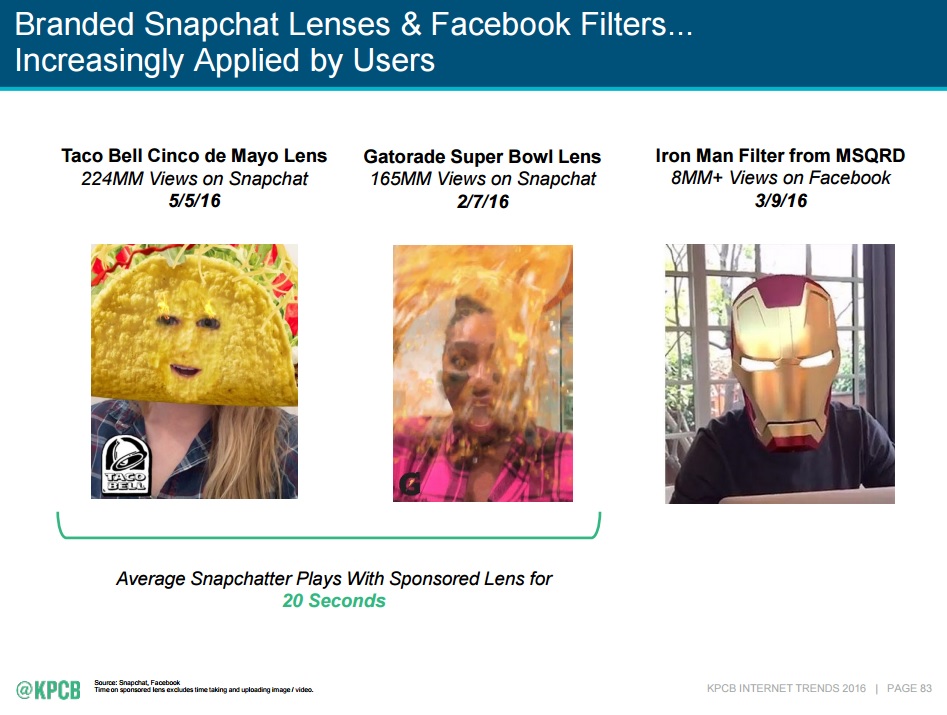 The 2015 advent of the Discover portal and its publisher partners brought straight professional curation to Snapchat, and now 70 million-plus Snapchat users view Discover content monthly with top channels averaging six to seven minutes per user daily.
Getting a Sponsored Lens ad for Snapchat reportedly costs as much as $750,000 for a one-day campaign – but gives brands access to a huge audience that can't be reliably reached on linear TV. Gatorade's Super Bowl sponsored lens set the bar at 165 million views in one day, and Taco Bell's recent Cinco de Mayo sponsored lens blew past that figure with 224 million views. While a sponsored lens isn't for every marketer, it does offer an example of how mobile advertising is capable of reaching audiences that simply couldn't be reached using traditional challenge or desktop ads.
---
To summarise – the rise of mobile is paving the way to new, exciting and engaging forms of marketing that have the potential to reach millions of users. If you don't already have a mobile marketing plan – now is the perfect time to start, before it's too late – Visit our digital solutions.