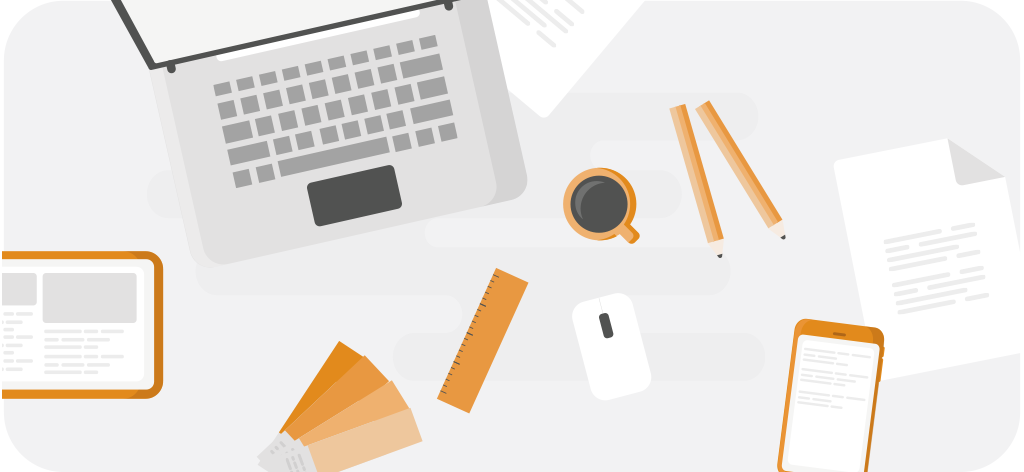 One of the most powerful weapons in business is graphic design.
An poorly designed website can look boring, amateurish and downright ugly. The solution? Graphic design – a redesign of your website and brand image that will propel your business into the modern day.
A slick and professional website can increase engagement and boost sales by helping your company stand out from the competition. But how does good graphic design actually convert into sales or engagement? Isn't just about making your website look pretty?
The short answer is no: at Web-Feet, we know that smart and effective graphic design provides much more than this. Read on to find out how good graphic design can have a positive impact on your company.
Design makes a company memorable
Brand recognition should be a key goal, and branding carefully considered during the design process. Brand recognition is essentially the extent to which your target audience can identify your brand through its visuals. This can include logos, slogans, and colour schemes – all parts of graphic design!
Studies have shown that people are 55% more likely to remember information if they can associate it with visuals.
This is why your logo is important. A good graphic designer will be aware of the target audience when designing a logo. They'll need to consider how it will make the target audience feel, how it will reflect the brand's values and where it will be shown.
A good graphic designer will also be aware that your logo needs to be effective and workable not just on your website but in print too. Promotional materials such as pens, tote bags and T-shirts can be used long term to increase brand awareness, so it's really important to get it right!
But remember, your brand isn't limited to its logo. Your brand image expands to every aspect of your business, consistently providing your audience with an instant connection to your products or services.
Good graphic design converts
Graphic design isn't just about aesthetics – it's also a proven method of conversion.
The overall look of your website and other branded visuals can persuade customers to take action, whether that's improving your CTR, gaining subscribers or making a sale. For example, a well-designed website can direct customers to a call-to-action, such 'Buy' or 'Subscribe Here'.
To get these results, clearly communicating your brand message is always key.
Consistency is vital
Seek to align your creativity with your brand to maintain brand consistency. Consistency is key to brand recognition. The aim of your brand design should be to reinforce the business's identity in the mind of the audience. To develop and maintain brand recognition, your design must be consistent with your target audience's perception of your company.
A great graphic designer will want to create a recognisable and consistent brand image for your business. This is especially important for small companies which have limited opportunities to make an impression: remember, those first impressions matter!
In order to achieve this, all fonts, colour schemes and images need to be carefully considered. You need to ensure that your visual branding is clear and consistent when applied across all communication channels.
A strong brand makes for a united company
Good graphic design and branding can strengthen a company's sense of unity. It helps employees feel part of a team, and good design reinforces a sense of pride and commitment amongst a workforce.
Your employees will be surrounded by your company logo, colours and slogans – all integral parts of graphic design! If you want them to take pride in your business, they will need to love the designs that you select to reflect your brand. Think carefully: will my employees want to represent this brand?
Graphic design can help tell your story
Think of your branding as a method of visual storytelling. Sometimes messages cannot be expressed by words alone: this is where graphic design takes centre stage in branding. Graphic design can help to produce visual aids, so you can communicate your ideas more effectively.
It's not just about making a logo pretty – it's about adding depth and meaning to your brand. By giving your products and services an identity you can capture your brand's story, and can take your audience on a journey. This enables your audience to form a personal connection with your brand, encouraging brand loyalty.
A good graphic designer will be able to help tell your story through crafting engaging and compelling visuals that captivates your target audience.
If after reading this post you feel that your business is due a graphic design overhaul then don't wait – contact us as Web-Feet.co.uk today!