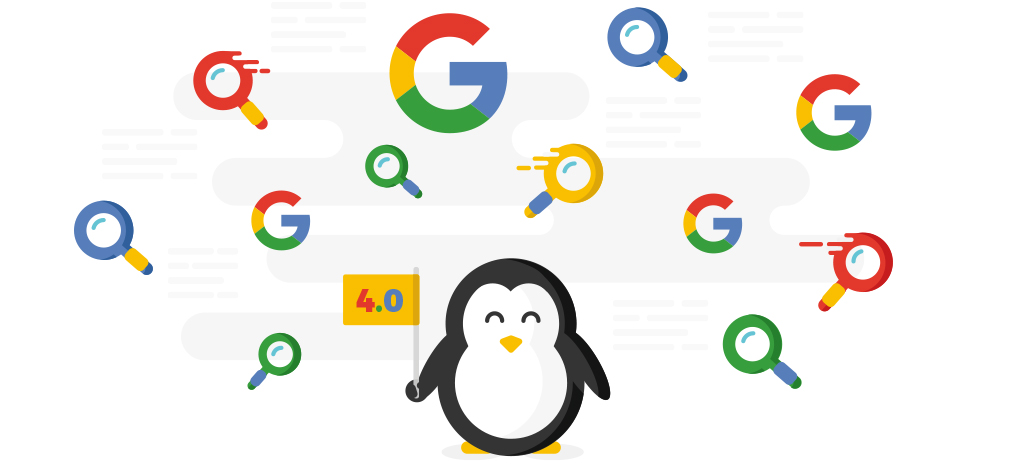 Google has been releasing Penguin updates for four years now. Although these have improved search results for users, marketers have had to rethink their SEO and link building strategies several times to avoid ranking penalties. The most recent update was Penguin 4.0, which was added to Google's core algorithm in late September. Two months after its release, has there been a noticeable difference in SEO performance?
---
What's new in Penguin 4.o?
Rolled out into Google's core algorithm on September 23rd 2016, the latest Penguin update brought several new features to the table – affecting the work of SEO specialists.
Penguin 4.0 is a global release.
This means that all websites and search results are impacted equally, regardless of location.
Penguin works in real-time.
Unlike some of Google's algorithms in the past, Penguin 4.0 works in real time. This means the positive and negative effects of your SEO work will become noticeable much faster. It also means you can recover from penalties with ease – after harmful links are removed from your site you'll see positive search results immediately after Google crawls your site.
This is the last Penguin update.
Penguin 4.0 is now part of Google's core search algorithm, rather than a separate filter. This means we won't get any more official announcements about Penguin updates.
Penguin is becoming more granular.
In the past, Google would penalise a whole website for just a few pages which broke their rules. Penguin 4.0 devalues spam links to individual pages rather than affecting the ranking of a whole website.
---
Has it made a difference?
It's still early days, but Penguin 4.0 already seems to be making a difference. Now that Google's algorithm operates in real time, sites get immediately penalised if it finds unnatural links. Penguin checks on the source of a link's authority and relevance, the value of the content, anchor text, and the contextual value of each link it finds. This can find low quality and spammy links very effectively, and will be used to decrease search rankings almost instantly. Luckily, because the algorithm works in real time, sites can recover from penalties just as quickly by disavowing the bad links or simply removing them.
Overall, Penguin 4.0 has produced both good and bad results for some websites. Marketers who stayed on top of the latest SEO techniques and algorithm requirements were able to use Penguin to their advantage, and were often rewarded with an overall increase of organic visibility, even for websites which were already ranked highly. Websites which weren't properly maintained or didn't operate a good Penguin-focused SEO strategy suffered following the release, receiving a noticeable and sudden drop in traffic due to their damaged search rankings. Furthermore, any websites using shady SEO techniques or were trying to bend the rules of Google's algorithms were swiftly punished, and unless they conform with Penguin 4.0's rules, their search rankings won't get any higher.
A downside of Penguin 4.0 is that negative SEO can take place much more easily – people can buy spammy links online and target them at a competitors website. While this has always been a risk, the real-time element of Penguin 4.0 means that a large amount of low quality links pointing to a website will quickly damage its search ranking. Skilled SEO teams know what to look for and can usually stop such an attack before it has too much of an impact – but anyone not properly monitoring their SEO could easily fall victim to an attack of this nature.
Such big changes to Google's core algorithm are also making it harder to find good keyword niches. SEO marketers are forced to look for a wide range of specific, relevant and appropriate keywords to try and get ahead in search results. Penguin 4.0 may be placing more emphasis on location specific search terms, allowing businesses to target local customers and giving users relevant results of their surroundings.
Essentially, Google Penguin 4.0 has achieved it's aim – search results now contain more relevant, high quality websites. A skilled search-engine-optimiser can work with Penguin 4.0 to improve and maintain a website's SEO strategy, allowing them to avoid penalties and stay at the top of search results.
---
If you've been affected by Penguin 4.0 and need help restoring your search ranking, contact us today.